When you've got a lengthy list of items that need to be regularly maintained in your educational facility, school lockers aren't always at the top, but they're certainly important. Maintaining the lockers in your school can be a daunting task for a variety of reasons: the process is meticulous, it's time-consuming, and there are thousands of lockers that you need to go through before the job is done. One of the most common forms of locker maintenance is removing the dents.
Here's a few tips on how to remove the dents. We'll even give you ways that you can avoidthis maintenance, like replacing your lockers for , so you can save yourself time and money on fixing them.
Factors That Can Dent Your Lockers
Students aren't always gentle with the lockers in your school. In fact, they can sometimes be a bit rough. Most students choose slamming the locker shut as their preferred method of closing it, and over time, this can result in the locker door and frame becoming dented. Worst of all, this can cause the lockers to become less secure.
Another factor that leads to dented lockers is student rough housing. Students may playfully, or intentionally, shove each other against lockers. The combination of the body weight and the force of the impact can cause the metal to dent. Dented lockers are unsightly, and sometimes less secure, so correcting the issue is imperative.
Getting Those Dents Out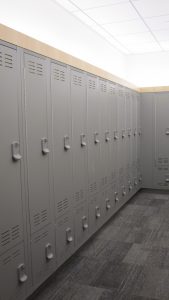 When you notice the unsightly dents, you'll want to fix them before they get worse. Take a rubber mallet, or a flat hammer, and with medium force, strike the dent. You should have a hard flat surface behind the opposite direction of the dent to ensure that the dent evens out. Using light to medium force, strike the dent a few times. It'll start to flatten out and become more even with the locker's surface. You'll want to complete this action after school hours due to the loud noise that's expected when hammering the locker—you won't want student distraction to be an issue.
After you've complete repairing the dents, whether you've removed the locker doors or kept them intact, you'll want to check the lock to make sure that it wasn't affected by the original denting or the repairs process. After you've hammered out the dents, look for any signs of chipped paint that may need to be corrected.
Why Use Plastic Storage Lockers?
If you're growing tired of having to constantly hammer out lockers to fix dents, the answer may be right in front of you: get new lockers! Schools across the nation have begun implementing HDPE plastic lockers that have been successful at reducing the dents, damage, and wear of normal metal lockers. These solid HDPE plastic storage lockers provide a durable structure for storage, and they resist dents and even scratches. By implementing HDPE plastic lockers into your school, not only will you have sturdy and secure compartments for student materials, but they're far less susceptible to the normal wear and tear of traditional metal lockers.
Learn about the many benefits and advantages that HDPE plastic lockers have over traditional metal lockers by checking out these free eBooks, The Ultimate Guide to HDPE Plastic Lockers and the Locker Replacement Checklist, from your friends at Scranton Products.
https://www.scrantonproducts.com/wp-content/uploads/2017/04/determining-the-lifestyle-cost-of-metal-and-hdpe-lockers.jpg
450
600
Stream Companies
https://www.scrantonproducts.com/wp-content/uploads/2019/02/Scranton-Products-Full-Color-Logo.png
Stream Companies
2017-12-08 19:48:43
2020-11-20 14:46:03
How to Remove Dents from Metal Lockers