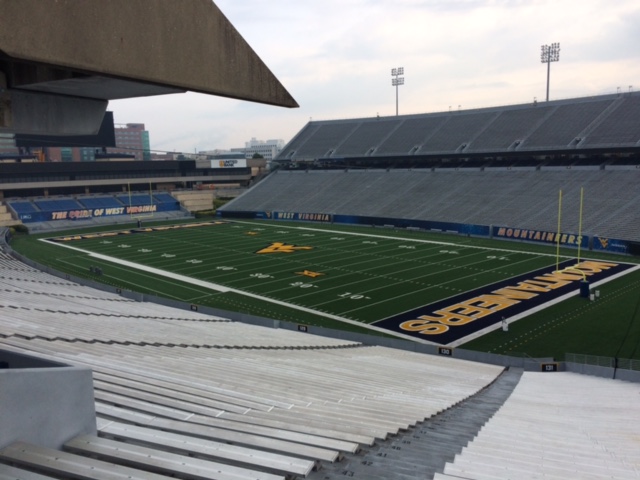 West Virginia University Selects
Scranton Products® Hiny Hiders® Partitions
for New Stadium Renovation
Milan Puskar Stadium, the home of the West Virginia University Mountaineers, has chosen Scranton Products partitions for the final phase of a $55 million renovation project that includes the installation of hundreds of restrooms. Scranton Products' Hiny Hiders Partitions are designed to add comfort, convenience, and style in an environment that previously had long lines and bland aesthetics. The newly upgraded stadium restrooms, emblazoned with the team's signature blue and gold colors, also feature numerous amenities, including phone charging stations,10 additional entry points, enhanced signage and graphics, and dozens of new men and women's bathroom stalls.
"The goal was to experience game day excitement in every corner of the stadium," says Stacy Calabrese, president of Dubin and Company, Inc. in Pittsburgh Pa. "Previously, bottlenecks were everywhere. The new upgrades were specifically designed to streamline activities throughout the building, while driving home team spirit no matter the location."
A specialist in architectural division 10 products, Calabrese recommended Scranton Products' Hiny Hiders in blueberry based on decades of work with the company and the need for partitions that would withstand the rigors of seven home games a year plus special events.
"The Mountaineers are very passionate fans," adds Calabrese. "These games can get rowdy. Hiny Hiders are ideal for dealing with heavy traffic in intense environments. Plus, Scranton Products does it right. Over the years, we've placed their partitions in numerous extreme, high-use commercial operations that have been prone to vandalism. So far, each installation has lasted the test of time. We know this because we've received no complaints whatsoever."
Scranton Products offers an assortment of HDPE products in a variety of colors and textures that never need painting. Unlike metal partitions which are subject to rust, Hiny Hiders offer superior resistance to dents, scratches, graffiti, corrosion, mildew and moisture. Another benefit is that they are very easy to clean and naturally resistant to bacteria and carry a 25-year warranty.